MES Solution Brief
From electronics to medical equipment, from automobiles to heavy equipment, every industry is facing increasingly fierce market competition. Cheap prices can no longer be used as the only magic weapon for competition. Customers expect that manufacturing companies can provide higher product quality, faster production speed, and better delivery flexibility. Increasing labor costs and rising raw material prices have increased pressure on costs. Various laws and regulations that are increasingly stringent in foreign countries have imposed higher requirements on product exports. The continuous shortening of product life cycles has brought material management challenges, and products have been launched quickly. It is often accompanied by a large quality risk. With the rapid development of these enterprises, these problems at the manufacturing site are becoming more and more prominent. The traditional manual management and ERP software are inadequate in this regard. Manufacturing companies must find new ways to manage the breakthrough.
As a manufacturing execution system, MES helps companies solve the above problems well by opening the "black box" at the manufacturing site. MES (Manufacturing Execution System) tracks and feedbacks the production progress, quality control, and material consumption of each product under the work order in a timely manner, and focuses on production efficiency, straight-through rate, downtime and waiting according to the set early warning indicators. Warning, realizing full transparency, complete traceability, real-time error prevention and pre-management at the manufacturing site.

Rockwell FactoryTalk ProductionCentre MES Solution
Rockwell's automated MES platform-FactoryTalk ProductionCentre, aims to enable suppliers' material information, pre-process and assembly line material consumption and production information, and finished product flow information to be collected in real time, accurately and completely through data barcode collection throughout the production process. Traceability
Transparency in all aspects of material purchase, storage, delivery, assembly, finished product storage, out of storage, branch out of storage and end users.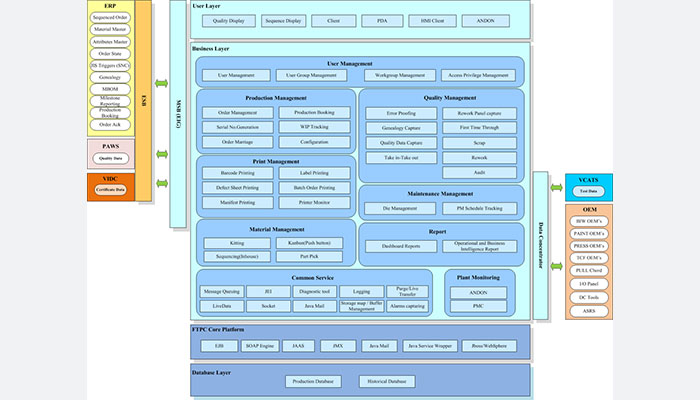 MES-Product Overview
Based on the MES platform, combined with many years of consulting and implementation experience and consultant elites, jointly develop MES, including systems: MES, APS, HRM, MRP, WMS and EMS, from enterprise resource planning-efficiency capacity, from resources-production products-products After-sale, the overall intelligent manufacturing construction of manufacturing enterprises that implements unified planning and management of resources, equipment, products, and production capacity to achieve resource integration, production supervision and traceability, KPI performance evaluation, and equipment prevention and early warning.
Platform advantage
Based on web B / S architecture design, one-click upgrade system version, easy to use and easy to operate.
Suzhou Huaguan Technology JapserMes platform supports multi-language and more international models.
Drag-and-drop process route design, visual modeling scenarios, from concrete to abstract, from tedious to simple.
Application design based on cloud architecture, adopting private cloud + public cloud deployment, combining tradition and modernity, giving wisdom in production.
Platformized products support extended attributes for modeling objects, such as materials, to meet the development needs of different industries.
Support for report extension. Users can independently develop reports through the reporting tool and seamlessly integrate with the platform.
Expansion of configuration-driven functions to avoid a lot of secondary development work.
The modules are independent and can be implemented gradually according to actual requirements to meet the flexible business requirements of SMEs.
Using the Java programming language, the backup power is strong, and it faces a wide range of people; at the same time, it provides a wealth of secondary development documents, which is easy for secondary development and maintenance.
The native reports are rich, from design to production kanban, forward tracking, reverse tracing, etc., to enable users to carefully control the production process.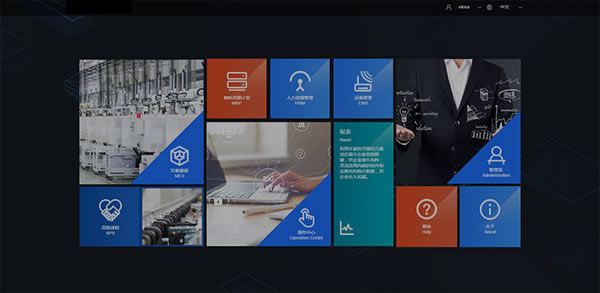 MES-platform module planning
MES
Production Process Execution System
Accurately trace and monitor the production process
Collect complete production information
Custom production process
Guarantee product quality standards
Cooperate with lean workshop production
Statistical analysis of report data
APS
Advanced planning and scheduling system
Flexible configuration of scheduling strategies
Fully automated production scheduling
Schedule Constraint Dynamic Association
Full Gantt chart visualization
Allow temporary deployment plans
MRP
Material demand plan
Manage product structure in all aspects
Show inventory file status in real time
Production and inventory
Control plans and reports
Precision calculation
Process and operation
WMS
Intelligent warehouse management system
Warehouse automation and refined management
Flexible job engine settings
Direct and standardize warehouse operations
Intelligent warehouse management
Reduce warehouse material storage
Visual monitoring of warehouse resources
HRM
Human resource management system
Build a complete group organization structure
Comprehensive maintenance of employees' comprehensive information
Reasonable statistics of employee hours and compensation
Talent input and output management
Accurate KPI performance evaluation of employees
EMS
Integrated equipment management system
Early warning and prevention equipment
Timely abnormal online alarm
Real-time equipment data collection
Equipment TPM comprehensive management
MES-platform feature set
01 MES
Object modeling
Factory
Factory Modeling
|
Process Route
|
Workstation
|
Work Instruction
|
Production Definition
|
Packaging Category
|
Packaging
|
Quality Defect
|
Measurement Unit
|
Plugin Configuration
|
Exception Code
|
Exception Code Group
|
Processing Code
|
Processing Code Group
|
System Configuration
Materials
Material
|
Material Type
|
Bill of Material
External devices
Printer Configuration
|
Printer Purpose
|
PLC
|
RFID Configuration
Secondary development
Text configuration
|
custom table
|
extended attribute
|
serial number
|
object backup
|
report
Operations Center
Workshop workstation
Scan code identifying
|
material consumption
|
SOP View
|
data collection
|
upload photos
|
anti-pumping station
|
workstation error prevention Foolproof
|
through the station material retroactive
|
change orders (ECN Change)
|
product label printing & scanning
|
production Abnormal remind
|
exception handling
|
production status update
|
production information view
|
alternative materials generated
02 APS
Production planning & scheduling
Advanced scheduling
Work Order Type Management
|
Work Order Management
|
Team Group Scheduling
|
Calendar Management
|
Rules Management
|
Strategy Management
|
Scheduling results into
|
scheduling results Trying
|
material requirements
|
Human resources requirements
|
MRP integration
03 MRP
Material Requirements Planning
Customer management
Customer Basic Information
|
Project Management
|
Customer Contact Record
|
Customer Contact
|
Sales Team
|
Quotation
|
Quotation Review
Materials
Material information maintenance
|
Manufacturer maintains
|
newly created materials Audit
|
materials are bound to suppliers
|
BOM information maintenance
|
BOM audits
|
Reverse check material list
Material Requirements Planning
Customer Forecast
|
MRP Run
|
MRP Run Results
|
MRP Run Suggested
|
MRP Run History
Order management
Sales order maintenance
|
order change
|
sales order review
|
order status tracking
|
production work order maintenance
|
change order review
|
production work order review
Purchase management
Supplier information maintenance
|
suppliers access audits
|
purchase order
|
equipment purchase orders
|
Purchase Requisition
|
purchase orders audit
|
suppliers inquiry
|
Purchase Requisition review
|
purchase order tracking
04 WMS
Warehouse Management System
Inventory management
Warehouse picking
|
materials packaging
|
orders are shipped
|
Incoming inspection
|
incoming inspection inquiry
|
Purchase Order Receipts
|
to purchase materials storage
|
warehousing of finished
|
material cost
|
difference adjustment
|
cargo material inquiry
|
material cargo transfer
Kanban
Incoming inspection Kanban
|
location Kanban
|
goods Kanban
|
employee performance Kanban
|
emergency warning Kanban
05 HRM
Human Resource Management
Staff self-help
Application record
|
turnover apply for
|
leave to apply for
|
the assessment of performance
|
outside the plant life of
|
sick leave application
|
overtime / cancellation request
|
a replacement card application for
|
travel requests
|
go apply for
|
personnel changes apply
|
personnel changes batch application
Parameter Settings
Custom parameter
|
parameter configuration
Personnel Management
Recruitment information (release)
|
Staff statistics
|
Job
|
analysis
|
Organization structure
|
Position management
|
contract Maintenance
|
employee management
|
handover list
Attendance Management Performance Evaluation
Company Calendar
|
classes do not set the
|
classes do not assign
|
leave management
|
time and attendance data
|
Performance Indicators database
|
performance template
|
Performance Published
|
performance results
Training management
Courseware maintenance
|
course maintenance
|
training information
|
training results
|
instructor maintenance
06 EMS
Equipment management
Inventory management
Location Maintenance
|
Inventory Outgoing
|
Inventory Inventory Transfer
|
Inventory
|
Receiving
/
Receiving
|
Record
|
Transaction
|
Inquiry
Equipment capital
Equipment fixed
|
assets inventory
Fault management
Fault management
|
defect management
Equipment maintenance
Maintenance procedures
|
and maintenance procedures
Equipment scrapped
Scrap application
|
scrap list
Parameter configuration
Custom parameter
|
parameter configuration
Asset Management
Equipment Management
|
Equipment Ledger
07 Report Center
Production report
Production kanban
|
work order information
|
SN information
Input-output
Work Order Completion Rate
|
Standard
|
Manpower Query
Work in progress
Product Operation Query
|
Data Collection
|
Packaging Box Traceability
|
Product Notes
Quality report
Reports of adverse rate
|
quality inspection table
|
Product History Report bad
|
staff service breakdown reports
|
yield reports
|
personnel maintenance report
Schedule report
Scheduling report
|
material requirements
|
human resource requirements
Personnel report
Dashboard
|
employee shift
|
personnel change
|
leave report
|
overtime report
|
attendance report
|
attendance exception report
08 APP
Task center
Equipment inspection
|
equipment repair
|
equipment inventory
|
inventory query
|
abnormal query
|
task orders
|
task updates
|
Accessories / photo upload
|
task approval
|
scan two-dimensional code site
Data management
Data update
|
data cleaning
|
data upload
|
Knowledge Management
System Management
APP update
|
personal settings
|
System settings
|
language settings
|
my to-do tasks
|
Announcement