AGS Consulting Services is comprised of consultants who have extensive experience helping customers align their IT objectives with their business strategies. We currently have partners which we help optimize their IT and business quality management and testing capabilities. Our focus on quality management and testing in addition to deep expertise in the development lifecycle enables us to provide convenient services that truly help you improve the way you build systems.
Working with you every step of the way, we will be able to fully understand your business needs and apply that knowledge to propose and execute IT initiatives that produce maximum return on investment. Our team has gained a special expertise in evaluating which IT initiatives are best suited for offshore outsourcing. We have a firm understanding as how to evaluate the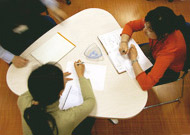 relative difficulty and expense associated with the offshore development or maintenance of various applications. Due to this gained knowledge, we are able to apply our experience to your portfolio of applications or IT initiatives and provide a logical, structured approach to deciding when, how and how much to outsource.
Application Deployment:
Our consultants have been professionally trained and they are capable of business analysis, engineering requirements, application development and QA.
Installation & Configuration:
On-site installation and configuration of application settings are provided once the application has been deployed.
Seamless Integration with 3rd Party Applications:
The software may be integrated into the customers' systems and current applications used.
Customer Training and Support:
The customer-training course is specifically designed based on system configuration, customization and operations dedicated to the end users. It enables us to provide the customer support in technical support and multi-language support.
ACG delivers high-quality, on-time, on-budget projects for our partners who have demanding IT needs.