Technologies
<!-include file="QuickLinks.htm"-->

AGS provides mobile application development solutions that are obtainable
to companies of any size or industry utilizing the
most popular mobile platforms. We know how to
navigate the capabilities of each platform and
develop solutions that work on the widest range
of devices using cross platform mobile development.

With mobile application development solutions,
businesses now have the ability to reach out to
consumers instantaneously to deliver information,
products and services. Additionally, the capacity
to streamline internal organization processes is
endless, cutting costs and propelling businesses
into a new era of productivity.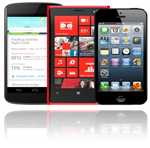 The AGS core expertise lies at creating highly intuitive and interactive enterprise level mobile applications across iOS Application, Android Application and Windows Application platforms.
AGS Expertise
iOS Application Development
Android Application Development
Windows Application Development
Software testing and Quality assurance
iOS Application Development
iOS is a mobile operating system developed and distributed by Apple Inc. Originally released in 2007 for the iPhone and iPod Touch platforms, it has been extended to support other Apple devices such as the iPad and Apple TV. In June 2010, Apple rebranded iPhone OS as "iOS". In iOS system, there are four abstraction layers: the Core OS layer, the Core Services layer, the Media layer, and the Cocoa Touch layer.

Main services
iPhone/iPad application development
The secondary development on iPhone/iPad platform
Onestop service for design、development and performance testing
Products
Mobile PLM

Mobile PLM extends the performance of Oracle Agile PLM (9.3.1 or later), the decision-maker in the enterprise is able to get access for viewing engineering change data and executing approvals via iPhone/iPad from anywhere.

Features:

View task list of the created and pending activity requiring approval or action
View change related information
Inspect change related attachments
List all the affected items
View affected item detail
Inspect the affected item related attachments
Inspect the redline BOM for the affected item
Inspect the redline Manufacturer for the affected
item
View and change work flow state
Inspect the workflow approval status of all the assigned approvers
Approve or reject the change with comments

More iOS Apps